Home » Eating » For a nice figure - no more than 2 000 calories per day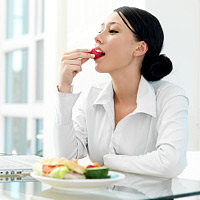 For a nice figure - no more than 2 000 calories per day
10 January 2019 |
For normal weight and slender figure women should not take more than 2 000 calories a day, while men - 2 500 calories, calculated dieticians.


Doctors tend to believe that daily intake of calories should not exceed these values. Men can eat 500 calories more than the opposite sex for the normal functioning of the body. A number of other factors influence metabolic processes in the body such as physical activity and food content. You do not need to think for yourself because scientific discoveries allow perfect accuracy in calorie counting.
Statistics show that both sexes consume an average of 10% above the allowable amount of calories to maintain healthy weight and body tone. According to recent calculations, one out of every three people on the planet is overweight.
Hits: 2396
More from Eating: